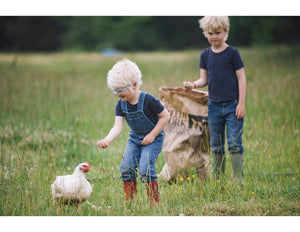 This is the non refundable deposit for "Family sized" membership to Haven Farm's ANNUAL CSA. This covers the LAST month of the CSA (May 2024). For questions please review the FAQ page from the main menu at the top of the home page, or give us a call or email! 919-236-3561 and havenfarmNC@gmail.com.
This non refundable deposit covers the last month of the CSA. The first month (June) will be a pre-paid option provided to you prior to delivery (may be Venmo, Zelle or cash/check on delivery if you are an existing customer). We are trying to avoid CC fees. If you exit the program prior to May 2024, the deposit will stay with Haven Farm.
PLEASE SEE THE "CSA FAQs" page
Brief Description of the FAMILY Meat Box: (see more info in the FAQ or the main CSA collection page, or call us.)

Between 14-16 lbs of meat. 

Example of a monthly Family Size box includes:
2 -3 packs of chicken white meat

1 - 2 package of chicken dark meat 
2 packs of sausage 
bacon
pork chops / pork roast
2 packages of ground beef
steaks or roasts
NB: We tend to do steaks in the summer and lean toward roasts in the cooler months.